28/06/14
Cleveland, a City Repurposed


by Shivani Vora, New York Times
June 26, 2014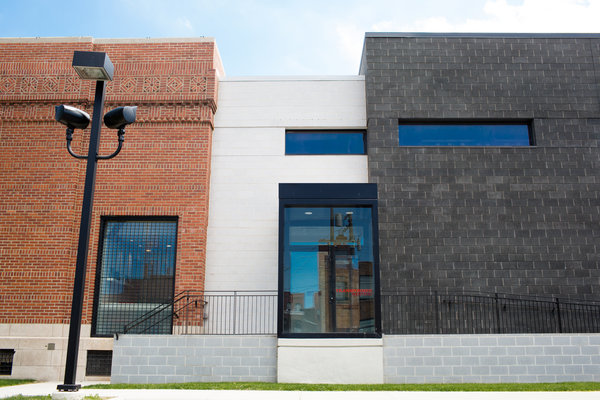 If there had to be a slogan to describe Cleveland as it is today, "what's old is new again" would undoubtedly be it. In the last few years, locals and businesses in this Midwest metropolis have been repurposing historic buildings from its heyday in the late 19th and early 20th centuries and turning them into restaurants, stores and draws for both residents and tourists. Many of these structures had sat empty for a decade or more before restoration efforts began infusing a vibrancy into this once-somewhat-downtrodden city...
...Regeneration has also come to the Ohio City neighborhood of Cleveland, known more for its food-centric West Side Market, where there is a year-old contemporary art gallery called the Transformer Station (1460 West 29 Street, 216-938-5429; transformerstation.org), which was built in 1924 as a power-converter station for the local streetcar line. Fred and Laura Bidwell, husband-and-wife artists and philanthropists, bought the space — a square brick building reminiscent of a Greek temple — to showcase art from around the world and to share its four exhibitions a year with the Cleveland Museum of Art. The main hall has 22-foot ceilings and a huge horizontal crane that can lift 15 tons. The gallery has free admission. "We're trying to showcase some top-level art," Mr. Bidwell said, "which we hope should entice people to come to this part of town."
02/06/14
The Transformer Station and the Starkweather killing spree: When are multiple homicides a fitting subject for art? (Review)

Steve Litt - Plain Dealer
CLEVELAND, Ohio -- The
Transformer Station's
big spring exhibition, "Redheaded Peckerwood," is a difficult and uncomfortable experience. It could hardly be otherwise.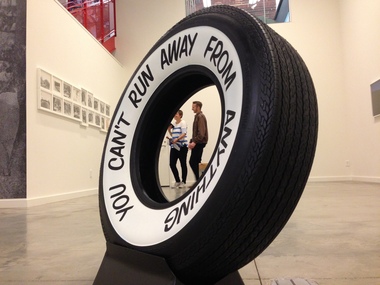 The hand-painted white-walled tire in "Redheaded Peckerwood" is part of the eclectic approach to the Starkweather killings of 1957-58 taken by artist Christian Patterson at the Transformer Station.
Steven Litt, The Plain Dealer

In photographs, hand-painted signs, magazine clippings and actual pieces of evidence, the exhibition retraces the trail of mayhem left by 19-year-old
Charlie Starkweather
, who murdered 11 people in Nebraska and Wyoming during the winter of 1957-58, while accompanied by his 14-year-old runaway girlfriend, Caril Ann Fugate.

Starkweather was executed at Nebraska State Penitentiary in 1959; Fugate was sentenced to life in prison and paroled in 1976.
The question is why the gallery and New York artist
Christian Patterson,
who doggedly researched and documented the murder spree, have chosen to focus so much attention on it, and in what context.

Read More...